Alba su l'alpe (

English translation below)

Fresca aurora è l'attim d'adesso, davanti alla baita.
Guardo giù nella valle il mare di nuvole bianche
e le cime lontane, molari canini, bianchi del sole che nasce.
La mascella del mondo si prepara a mangiarsi il suo giorno.
L'occhio rincorre le forme e i colori più vari:
un masso fra l'erba, larici, mughi, un ruscello che va;
odo vicino il lento brucare di pacifiche mucche
dal mantello pezzato color lustro-bruno.
Vitelli già grandi fan cenni col capo e guardan curiosi:
miti testoni, anime mansuete, viver beato e pacifico.
Al ritmo dei morsi che danno nell'erba
risuonano i bronzi che portano al collo.
Levano rapidi i musi bavosi: trepido affetto mi molce nel petto.
Gradiscono una carezza sul capo, che scacci dalle nari le mosche.
Con la lingua appuntita mi prendon la mano, rugosa la sfregan.
Son bestie idiote destinate al latte e al macello;
un numero giallo hanno appeso agli orecchi, mozze anche le corna.
Le fattrici hanno ventri rigonfi, uberi colmi di latte materno;
vi accosta la boccuccia caruccia un bel vitellino, lo sguardo vago ed ignaro;
e poi zampetta provando una corsa con la sorellina gemella:
contento di tutto si liscia la schiena contro il fianco di mamma.
Una pace paziente e bovina mi rumina in mente, all'alba su l'alpe.
Mi sdraio nell'erba, flessi i ginocchi, mi frullo uno stelo fra i labbri.
Guardo in alto nel terso del cielo ed è già paradiso.
Brucate anche me, se merito tanto, buono com'è l'erba, bello millefiori.
Ho lucidi gli occhi dal contento che sono, dal vivo che sono.
Impressioni del 6 luglio all'Aualm (Radstadt, Austria, 1700m. s.l.m.)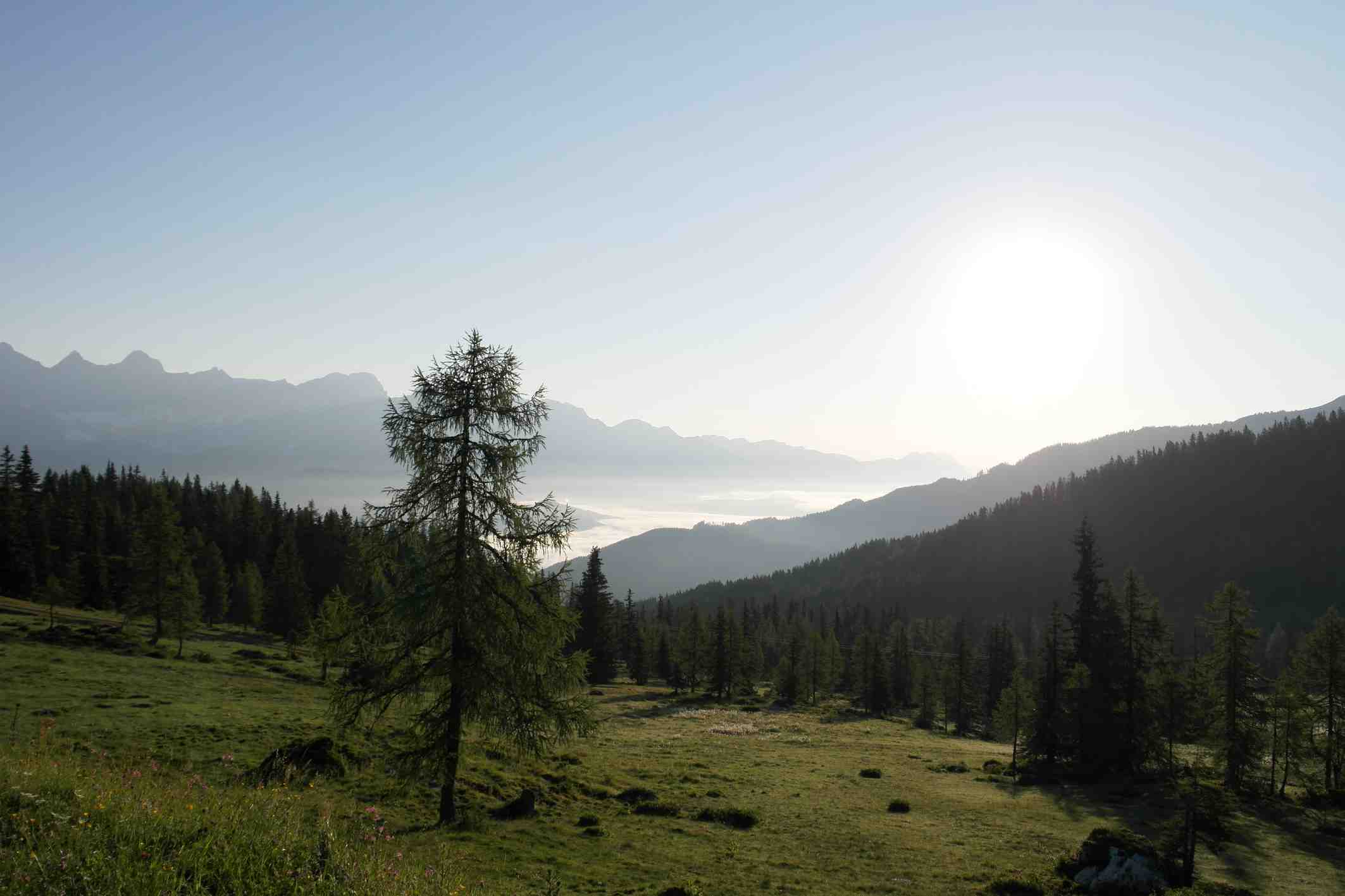 Foto Jos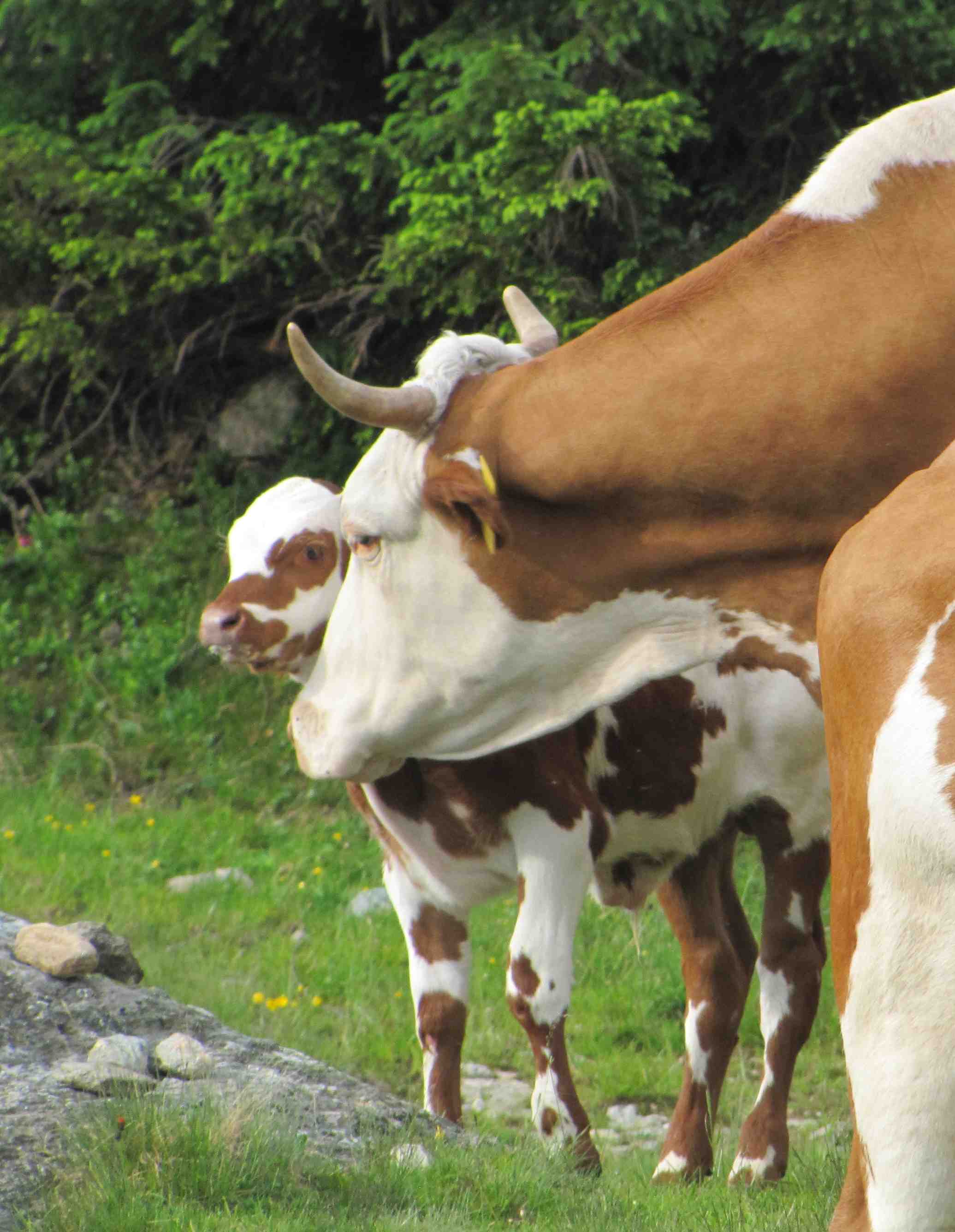 Daybreak on the alp
Fresh is the dawn by now, in front of the hut.
I look down into the valley: a sea of white clouds
and distant peaks, like canine molars, turned into white by the rising sun.
The jaw of the world gets ready to eat a new day.
The eye pursues various shapes and colours:
a rock in the grass, larches, dwarf pines, a running stream;
I hear nearby peaceful cows nibbling slowly in the grass
they have brindled coat, its colour shiny brown.

Grown-up calves nod at me, gazing with some curiosity:
meek big-heads, gentle souls, happy and peaceful life.
At the rate they are biting the grass
resound the bells that hang on their necks.
They swiftly rise their slobbering muzzles: earnest affections delight my chest.
They like a pat on the head, which drive away flies from their nostrils.
With pointed tongue they take my hand, licking it roughly.

They are idiot beasts doomed for slaughter and milk;
a yellow number is hanging in their ears, horns are also cut off.
Mares have bloated bellies, udder full of maternal milk;
a beautiful baby calf moves onwards his little mouth, his look is blank and oblivious;
and than paws away, trying a race with his twin sister:
all-contented, he smooths his back abreast with his mom.

Patient and bovine peace cuds in my mind, at daybreak on the alb.
I lie down in the grass, bending my knees. I flutter a stem between my lips.
I look up into the cloudless sky and it's as it was paradise.
Graze me too, if I deserve so much, good as grass, beautiful as wildflowers.
I have watery eyes, pleased as I am, alive as I feel.
Cremignane, 11 luglio 2012
---




Alba su l'alpe by Vittorio Volpi
is licensed under a Creative Commons Attribuzione-Non commerciale-Non opere derivate 2.5 Italia License.

On line dal 11 giugno 2012

Copyright © Vittorio Volpi - 2012